Greetings.
I've been doing a wood cut (printmaking) course, for which I've been turning up with no ideas so last Sunday I came up with this under pressure:
As an aside, I've been recently playing 'Shank' which you may or may not have heard of - its a PS3 download release that looks like an extremely violent sunday morning cartoon, using quite obviously cut out shapes and some warping to create some pretty good 2D animation! I've never really built characters in this way so wanted to try it out.
When I got home I started thinking this might make a cool animated scene so I started blocking out the woman in AS. Every limb is seperate - so when I boned it I went through every bone and pretty much attached an entire single shape to each bone.
AS is amazingly fast - I drew the shapes in an hour or two but boning took literally 10-15 mins at which point she came to life!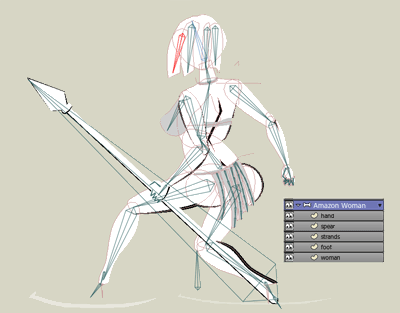 I used bone locking to lock her feet down so moving a single torso bone made her sway like she's doing tai chi.
At this point she was naked, so I put in the bikini, the strands on her waist are the only things which are flexi binded as they are made of quite a few points.
Then the fun bit of just animating without any target ideas i just messed about - the clothes added a nice oportunity for secondary motion, and spinning the spear was done with point motion.
The thing I love about AS is that you can work quite broadly with bones, and then go into the layer to fix up point motion (for example to keep her ankles from moving around too much)
The splashes were done with switch layers - I foigured out quite a nice way to create switch layer frame by frame, by starting building frames OUTSIDE the switch then moving them in and laying them down. I then decided to extend the motion so each frame was on screen for 2 frames, but i used an overall warp on the switch layer to make even 2 identical frames change shape so it looks like they are drawn on 1s (maybe?)
Anyway - it's not perfect, it was just some fun and exercise for me but i thought I'd share in case someone found it useful or had any questions... i might continue this a little - i plan to hopefully make it into a little teaser trailer for a series that will never exist
by the way, i also think it makes a prety cool avatar - which i made by exporting PNGs, importing into photoshop as an animated sequence, cropping and exporting as GIF... loopy loopy.
other things i just thought of:
the only things on their own layer are the spear so it's on to, and the hand independant of the spear so it can be on top of it. Having the spear isolated meant that most of the time it was moved by the rist bone, but when needed i could spin it with point motion easily.
The feet were isolated so i can easily hide/show them when necessary but they were a bit of an afterthought and aren't particularly detailed.
I made extensive use of the sequencer tab doing this - really useful for copying splash layers and moving the around in time as a group of sublayers...
i love articulating the hand - each finger is boned - lots of fun.
Hope you find something useful in my unwittingly wordy post...let me know if you have any questions i've overlooked...
http://www.youtube.com/watch?v=aZMVYdyBEiY
one last thing - working in silhouette is very forgiving!